NewsHome > News > SINOTRUK PRODUCTS WITH MAN TECHNOLOGY "ONE-MILLION-KILOMETER CHALLENGE" FIRST TRUCK SUCCESS
Release time 2017-07-03 07:55  
On Jul. 4, "Drive One Million Kilometers and Experience the Excellence — SINOTRUK MAN Technology Product One-Million-Kilometer Challenge" first truck success news conference was held in Wuxi City, Jiangsu Province. On the site, were present Yu Youde, Deputy Secretary of the Party Committee and Vice-General Manager of China National Heavy Duty Truck Group Co., Ltd. (hereinafter referred to as "SINOTRUK"), Mr. Neundlinger, Executive Director of SINOTRUK, Wang Yiming, General Manager of ExxonMobil (China) Investment Co., Ltd. and Liang Kejian, Manager of Asia-Pacific Lubricating Oil Center of ExxonMobil (China) Investment Co., Ltd., where they witnessed the whole process and outstanding performance of SINOTRUK high-end heavy-duty SITRAK having run for over 1 million kilometers within 26 months.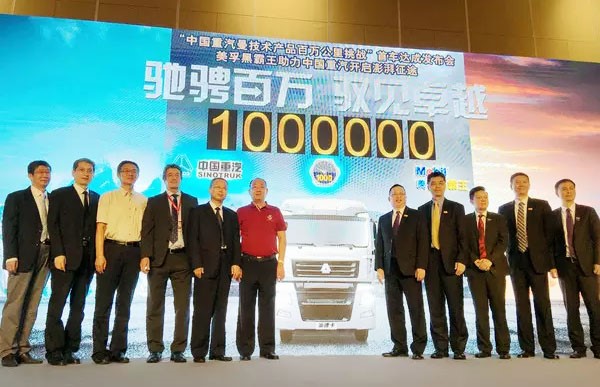 In this activity, the "star" was the heavy-duty truck SITRAK C7H purchased by Fu Zhongyan from Wuxi Hongyun Logistics. This truck traveled more than 1 million kilometers on the Zhengzhou-Wuxi through transport line at 04:48 p.m., Jul. 1, 2016, became the winner of SINOTRUK MAN technology truck 1-million-kilometer-challenge and won 200,000 yuan in cash for its owner.
Fu Zhongyan talked to the reporter about how he had finished the one million kilometers. He said, he had done physical business before; after the cargo volume became large, he began to operate swap trailer transport and then he happened to select SITRAK. Compared with other trucks, SITRAK has a much higher attendance rate. In 26 months, this truck ran one million kilometers without overhaul and he realized payback within 9 months. All of this benefits from the SINOTRUK MAN Technology and Mobil lubricating oil. Furthermore, due to the swap trailer transport pattern, he saved 5-10 percent points of cost for his customers and both parties realized profit maximization while ensuring no change in tr
SITRAK C7H 6x4 traction force depends on the MC11.440-40 engine with MAN Technology, coupled with the ZF Ecosplit 16S221 OD transmission with an overdrive of 0.84 and the rear axle with MCY13Q MAN Technology. The rear axle boasts a speed ratio of 3.36 and is equipped with standard Pirelli 315/80R22.5 tyres. The truck has high horsepower and small speed ratio, so that it can travel at a high speed throughout its course and the economic speed is around 70-95 Km/h. The attendance rate is 24 times/month on average. The round trip distance from Zhengzhou to Wuxi is about 1,660-1,700 km and it only takes 24h to finish the round trip. Therefore, these figures show the SITRAK realizes the longest meleage among those using the SINOTRUK MAN technology.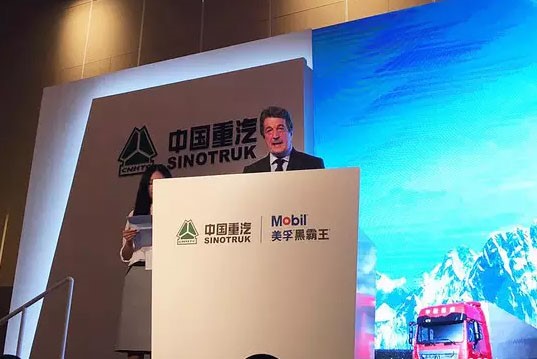 Mr. Neundlinger, Executive Director of SINOTRUK (Hong Kong) said at the ceremony, after SINOTRUK introduced the STEYR production technology in 1983, SINOTRUK has partnered with Maschinenfabrik Augsburg Nürnberg (MAN) for a long term. Since they signed the strategic cooperation agreement, both parties sincerely cooperated and delivered the best products to the market. The success of SITRAK in challenging one million kilometers is another milestone in the development of SINOTRUK.
After introduction of MAN technology, SINOTRUK digested and absorbed it. Later, and it has launched a wide range of products with MAN technology, including engine, axle and frame