Charming Show of China's Safest Intelligent Heavy Duty Truck
Release time 2017-02-08 14:28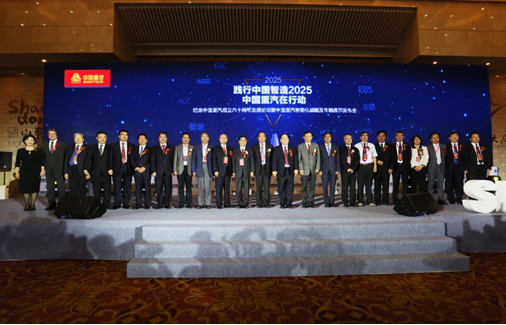 On Sept. 19th, the Development Forum & Presentation Conference of Sinotruk's Intelligent Strategy and Vehicle themed of "2025·Sinotruk acting in realization of 'Intelligently Made in China'" and in memory of Sinotruk's 60th Anniversary was held in Jinan. At the Conference, Sinotruk Generation I intelligent truck was officially launched. This truck is named SITRAK and is the first domestic intelligent heavy duty truck coagulating wisdom and efforts. It possesses Sinotruk's completely independent intellectual property rights and the same international advanced level on safety, economy and comfort, leading in the forefront of domestic industries.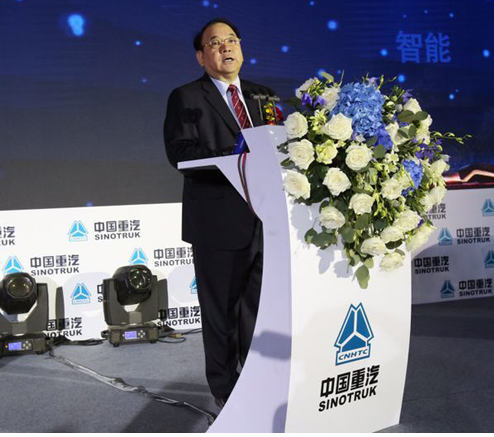 At the Conference, Ma Chunji, Secretary of the Party Committee and Chairman of the Board of Directors of Sinotruk, made a speech to draw a new blueprint for Sinotruk's intelligentization development in the future. He said that Sinotruk will realize vehicle intelligentization and promote new energy heavy-duty truck, actively implement national strategies by undertaking the mission of "Pride of China", constantly keep at the same advanced level of world commercial vehicles at the core of intelligentization and informatization. Besides, Sinotruk will inherit and develop the "Sinotruk Spirit" and continue to lead China's heavy duty truck industries to complete the historical transformation from "Made in China" to "Intelligently Made in China".
Ma Chunji said that Sinotruk people are self-reliant, hard-working, and in spite of the experience of difficulties, they arestill full of entrepreneurial passion in pursuing success and they have created one miracle after another with fearless spirit. From "bringing in" to "going global", Sinotruk has always been adhering to the internationalization strategy to lead an international road suitable for Sinotruk's features with the mind and vision of thinking globally and entering into worldwide market. Today's Sinotruk, with the help the policy of "One Belt and One Road", is blooming new splendor on the colorful stage in the Age of Globalization with a wider mind. From the introduction of STEYR technology to the cooperation with Volvo, especially for the strategic cooperation with MAN, Sinotruk has been learning in depth and innovating, and it now has 3,345 authorized patents and 173 invention patents, becoming the enterprise with the most patents in domestic heavy-duty truck industry. Sinotruk will stand in the forefront of domestic industries and make a new contribution to the innovative development of the national automobile industry.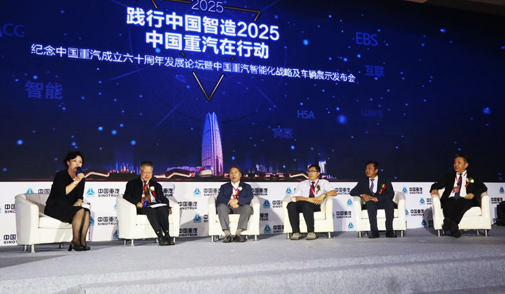 In the subsequent two rounds of Development Forum presided by Li Miaomiao (chief of Auto Circle), Cai Dong (president of Sinotruk) had a discussion with 7 experts in the automobile industry, including He Liming (president of China Federation of Logistics & Purchasing), Fu Yuwu (director of the Society of Automotive Engineering of China), Dong Yang (vice president ofChina Association of Automobile Manufacturers), Sun Bohuai (director of China Machinery Enterprise Management Association), Wang Zhile (researcher of the Research Institute of the Ministry of Commerce), Zhao Ying (director of Industrial Development Office of the Institute of Industrial Economics of Chinese Academy of Social Sciences), and Xu Xiangyang(deputy dean of the School of Transportation Science and Engineering of Beijing University of Aeronautics and Astronautics).
In the forum, logistics and enterprise development, independent innovation capability and intellectualization perspectiveness of Sinotruk and other aspects have been fully discussed, and the experts have proposed constructive suggestion for future development of Sinotruk. The experts said in their speech that in terms of innovation, Sinotruk is the model of innovation for Chinese automobile industry. The process from introduction, digestion, absorption to re-innovation has been brilliantly and effectively conveyed in Sinotruk. Sinotruk is the representative of Chinese automobile, which not only belongs to Chinese automobile industry, but also belongs to the international automobile family. The experts believe that the intellectualization of heavy truck embodies the perspectiveness of Sinotruk, and they have full belief that Sinotruk can certainly lead to the most significant end of the intelligent heavy truck industry at the turning stage of auto industrial revolution with the spirit of dared to development.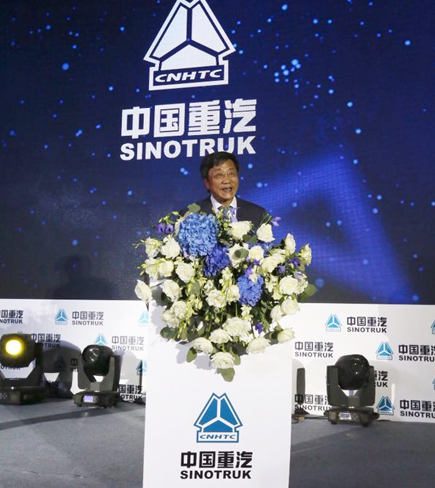 In his speech, Cai Dong said that "the auto people of our generation are lucky enough to experience the rapid development of Chinese heavy truck, from the heavy truck people of the old generation's methods of imitation, trial and error, to the current research method capable of conducting a large number of engineering and technical analysis and mutual counterevidence process. Therefore, the development history of Sinotruk equals to the miniature or representation of Chinese heavy truck development".

Cai Dong has announced the intelligent strategy of Sinotruk. He said that Sinotruk will put forward the development of intelligent truck with all strength. Through integrated utilization of intelligent environmental awareness technology, vehicle sensing technology, Internet plus high precision map technology, intelligent integration technology for complete vehicle, etc., realize industrialization of highly intelligent automated driving trucks, form the products characterized by Internet plus intelligent truck, build up integrated management platform system covering intelligent marketing, manufacturing and service system, and provide richer intelligent personalized custom products, so as to accelerate the development of intelligent truck, create intelligent logistics ecosystem facing the future, promote scale, industrialization and commercializing development of intelligent truck products, realize the comprehensive intelligent management for human, vehicle and goods during truck operation process, improve the logistics transportation of truck significantly, and continue to lead the innovation trend in Chinese heavy truck industry.
Cai Dong interpreted that the first intelligent truck in Generation I of Chinese heavy truck is the safest and most intelligent truck in China. Its charm is embodied in advanced vehicle sensor, controller, actuator and other devices. Through incorporating modern communication and network technology, it has the function of complex environment awareness, intelligent decision making and automatic control, realize information sharing and cooperative control between vehicle and external nodes, achieve "Zero casualty and zero rollover", and ensure safety, high efficiency and energy saving.

The release button for "Intelligent Strategy of Sinotruk" was jointly started by Tian Lei from Sinotruk Technical Center, Diao Tongwu fromSinotruk Jinan Truck Co., Ltd, Miao Zhiqiang fromSinotruk Sales Division, Bo Shijiu(Chairman of Changjiu Group), Bo Jitao from Sinotruk Import & Export Co., Ltd. and Zheng Yue from Sinotruk Special Vehicle Co.,Ltd. Such exciting moment was witnessed by top management members of Sinotruk, major clients, cooperative partner and news media at home and abroad together.