Xi Jinping Met Representatives of China-invested Enterprises in Chile
Release time 2017-02-08 14:29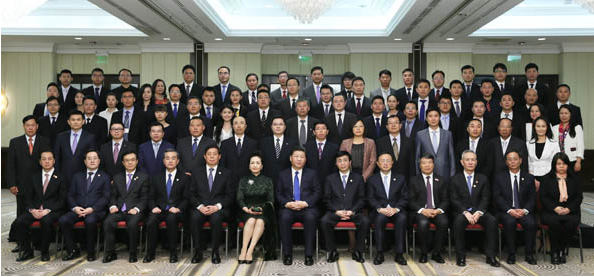 On Nov. 22, Chinese President Xi Jinping had a meeting with President of Chile Bachelet in Santiago. The heads of two states thought positively of the development in relationship between China and Chile, and determined the new orientation of bilateral relationsas "China-Chile comprehensive strategic partnership" through consensus decisions, further promoting the bilateral relation between China and Chile to gain a greater development. After the meeting with the President of Chile, Xi Jinping met representatives of China-invested enterprises in Chile. As one of the representatives of China-invested enterprises in Chile, SINOTRUK Office in Chile was also invited by the Embassy and had a group photo taken with Xi Jinping to mark the occasion.

Through vigorous implementation of the international strategy, SINOTRUK taps into Chile marketdominated by European and American heavy duty trucks, studies actual economic construction in Chile, builds up Chinese brand for heavy duty truck and makes energetically popularization of high quality Chinese heavy duty trucks.

Chile's commercial vehicle market is dominated by European and Americanhigh-end brands, accounting for 85% in local market. The heavy duty truck of Chinese brand only accounts for less than 6% in Chile market. Even though there are many master hands in this high-end market, SINOTRUK positively benchmarks with international market rules and practice, and energetically configures market layout and network construction. SINOTRUK provides automobile finance, pre-sale, during-sale and after-sales service as well as value-added services and life cycle service for its customers. At present, the heavy duty trucks of SINOTRUK rank the first place in Chinese brands in Chile market.